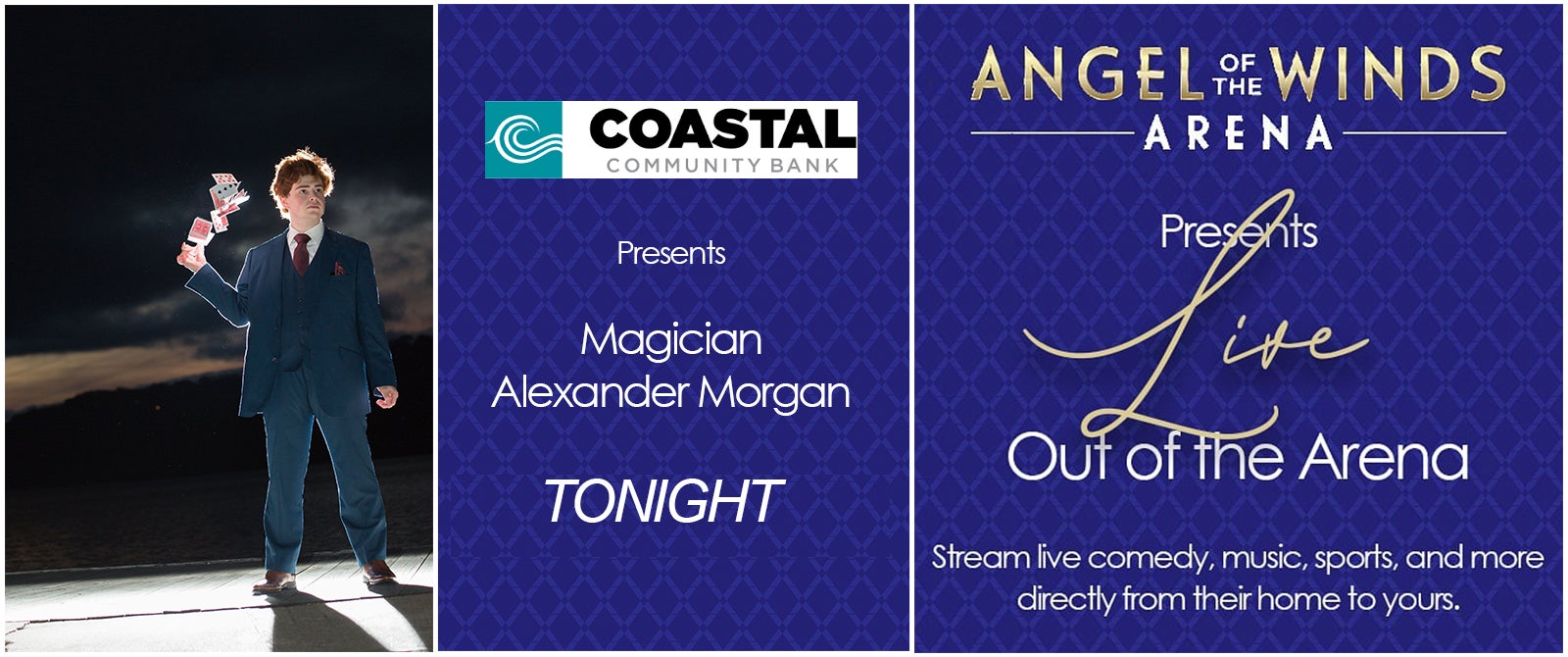 Live Out of the Arena with Magician Alexander Morgan
Live Out of the Arena with Magician Alexander Morgan
May
28
2020
Live Out of the Arena with Magician Alexander Morgan
Date

May

28

2020

Event Starts

7:00PM
Event Details
This week's show features magician Alexander Morgan presented by Coastal Community Bank. This in-home live performance will start at 7pm Thursday May 28th.
Alexander Morgan (you can call him Alex) has been practicing the art of magic for nearly his entire life (he was born in 1997, in case you wanted to do the math!). His interests in acting, comedy, history, and modernizing magic tricks & illusions that were created 100+ years ago make for a unique and unforgettable performance.
As a teenager, Alex was a student at Tannen's Magic Camp, a summer camp where only a select 100 teen magicians migrate from all over the world to Brynn Mawr College in Pennsylvania for one week to learn about magic, maintaining a business, creating their own magic, and dozens of other topics. When at Tannen's, Alex learned from Michael Carbonaro (star of truTV's "The Carbonaro Effect"), Derek Hughes (magician & finalist on NBC's 10th season of "America's Got Talent"), Harrison Greenbaum (comedian & finalist on NBC's programs "Last Comic Standing" and season 12 of "America's Got Talent") and Kostya Kimlat ("fooler" during season 3 of "Penn & Teller: Fool Us") just to name a few! Alex's "professors" at Tannen's taught him everything as basic as card tricks all the way up to the more advanced topics, such as marketing one's self as a performer.
Alex never fails to leave his audiences feeling spellbound and speechless long after the curtains close!
PRESENTED BY Coastal Community Bank!!!
We keep these events free but please remember this is a full time job for our performers. Tip Alexander Morgan here:
PayPal: https://www.paypal.me/magicaltimelord
Venmo: https://venmo.com/code?user_id=2417752904040448603
Follow Alexander Morgan:
Instagram: https://instagram.com/alexmorganlive?igshid=1t39emzaz15q4
Snapchat: https://www.snapchat.com/add/alexmorganlive
TikTok: https://vm.tiktok.com/cg3YAc/
Twitter: https://twitter.com/AlexMorganLive
YouTube: https://www.youtube.com/channel/UCo0eWdzIhXaGSCAFEfJnhRw
Website: https://www.mindofmorgan.com