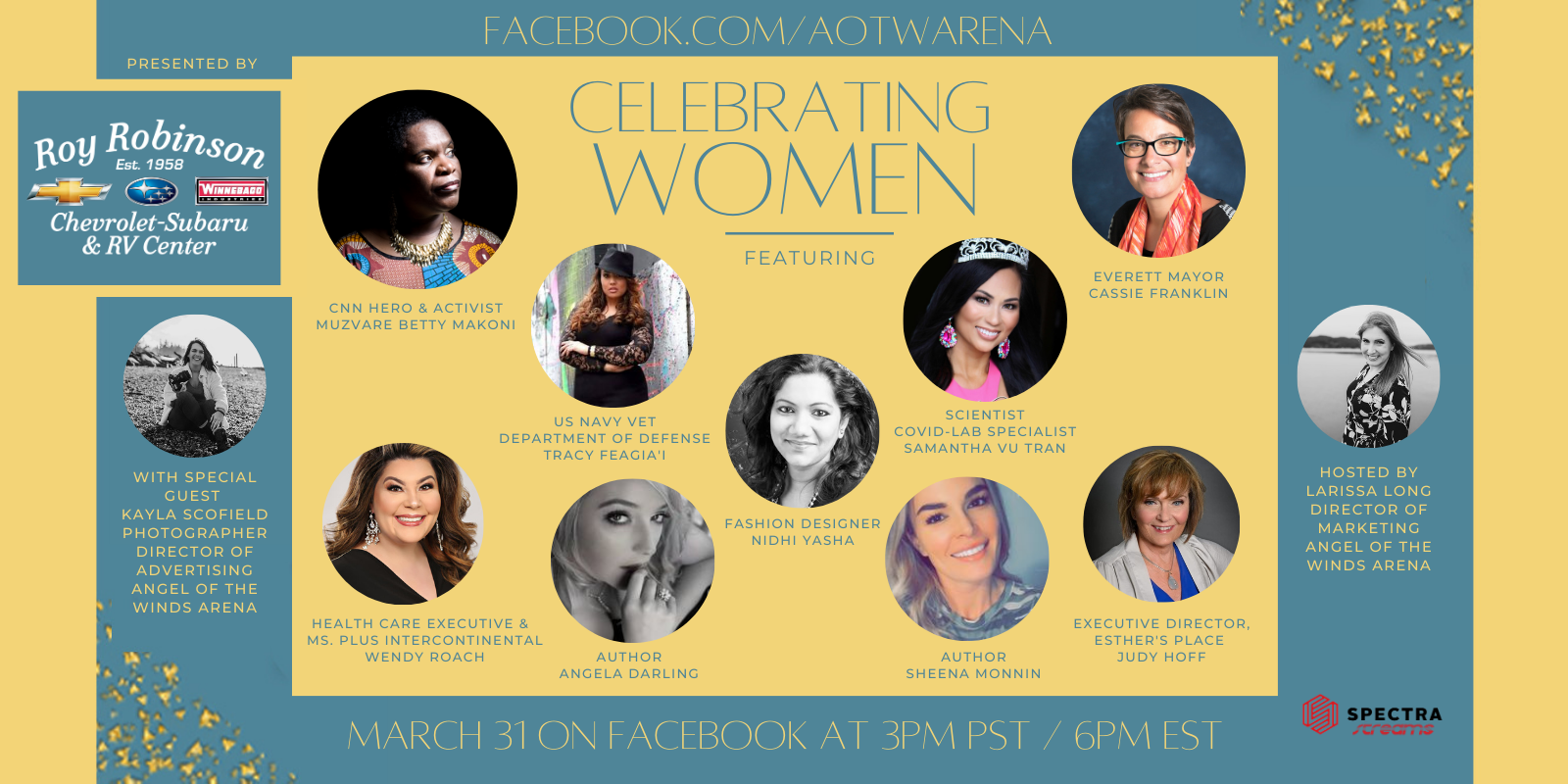 Celebrating Women 2021
Celebrating Women 2021
Date

Mar

31

2021

Event Starts

3:00 PM

Ticket Prices

FREE

On Sale

On Sale Now
Event Details
Presented by Roy Robinson
Join us Wednesday, March 31 at 3 pm on Facebook to celebrate the last day of Women's History Month with industry leaders from all over the world.
KEYNOTE Betty Makoni –

CNN Hero, author, and multi-award-winning influencer, Betty Makoni is a Zimbabwean women's rights activist who in 1999 founded the Girl Child Network, a charity that supports Zimbabwe's young sex abuse victims. The organization has rescued more than 35,000 girls and provided mentoring to at least 60,000 girls around Zimbabwe.



Everett Mayor Cassie Franklin –

Cassie Franklin took office on January 1, 2018, becoming the first woman to be elected mayor of Everett. As mayor, Franklin is focused on economic development, public safety and civic engagement. She uses her extensive leadership experience to ensure the City's ongoing financial wellbeing and the success of all of Everett's businesses. Franklin is committed to open, transparent government and to ensure that the City's workforce and boards and commissions are reflective of our diverse community.



Nadhi Yasha - A NIFT, New Delhi and IIM Ahmedabad alumnus, Nidhi Yasha is the founder and director of the reputed and internationally acclaimed Mumbai-based design house, The NY Studio, and the owner of the luxury label NIDHI YASHA. Her designs have been featured in some of Bollywood's top films and television programs. With over 15 years of experience in design, Nidhi is a member of the FDCI (Fashion Design Council of India) and showcases bi-annually at the "India Fashion Week" having been featured in Vogue India. Her eponymous retail label NIDHI YASHA bagged the prestigious nomination for "National Brand "at "Luxury lifestyle awards" in Singapore in 2016, having debuted at the London Fashion Week Catwalk Edit in 2015.

Wendy Roach –

Experienced Patient Access Director with a demonstrated history of working in the hospital & health care industry in both a clinical & administrative capacity. Skilled in Healthcare Management, Revenue Cycle Management, Diagnostic Medical Sonography, Patient Safety, Education & Training, Public Speaking & Modeling. Strong healthcare services professional currently pursuing a PhD in Organizational Leadership from Concordia University. Wendy is an international speaker and leadership instructor. She currently holds the title of

Ms. Plus Intercontinental 2021.




Judy Hoff- Judy is a pastor and national award-winning speaker and founder of Esther's Place. The founder of Esther's Place is

accessible to women and their children who are in a variety of challenging circumstances. Homeless, domestic violence survivors, recovering drug users are just some of the clients that utilize this low-barrier facility. More than just breakfast and lunch, which is served daily, our services include free phones, insurance cards, sleeping bags, and other essential survival supplies. Clients can also attend life skills classes, support groups, and recovery meetings daily. Developing relationships with each woman is our most important function on guiding them toward the resources and services on their road to self-sufficiency. This past year, Esther's Place served over 9000 women and served over 25,000 meals.
Samantha Vu-Tran - Samantha Vu Tran obtained her Bachelors of Science in Chemistry at the University of Central Oklahoma. She started out as a Chemical Technician at the Oklahoma State Department of Health and continued to move up and work in different departments at the state lab. A former laboratory scientist and molecular virologist, she was called back last year to the state lab to assist with the pandemic as a COVID Lab Specialist. This big science enthusiast is also a big pageant lover. Samantha has competed in pageants since the age of 15 and recently gave up her title as Mrs. Oklahoma America. Her love of pageantry has given her the opportunity to direct and mentor at UCO. She is also the Asian Night Market Festival program coordinator, board member of FAITH Kids, she fights for vets through Warriors for Freedom Foundation, a religious education teacher, is one of the founding members of Asian American Student Association, the founder of Miss Asian UCO pageant, and is currently the director of the Mr. and Miss International UCO pageant. She keeps a busy schedule with 3 kids, helps her husband manage their house flipping business, TRANsitions, and working on getting her book, Memoirs of a Mediocre Asian published.
Tracy Feagia'i - US Veteran, Defense Contractor, Women Veterans Advocate, Plus Model, & Beauty Queen. She was born in Seattle, Wa and spent her childhood being raised in Sasebo Japan & Nanakuli Hawaii while her father served on active duty in the US Navy. She currently lives in the Middle Eastern Kingdom of Bahrain and has been there for the last 6yrs as the Emergency Communications Supervisor for the US Navy's Fire Department. Tracy has also served in the US Navy for 7yrs as a Cryptologic Communications Operator & then spent 5yrs as a Department of the Navy IT Contractor. She is a committee member of the Native Hawaiian & Pacific Islander (NHPI) Health & Fitness Outreach program for Polynesian Youth in Washington state & was a board member of the "Outreach & Resource Services for Women Veterans" (OARS4VETS) and was the former Women Veterans coordinator for "The Seattle Stand Down", organizations which both assist and advocates for veterans rights. She has an Associates in Management Studies from the University of Maryland and will be graduating this fall with her Bachelors in Emergency Management. In 2013, Tracy was also appointed and crowned the first Miss Plus USA, representing the average woman wearing a double-digit size. Tracy began her plus modeling career in February of 2013 and is signed to "TCM Models" out of Seattle. She believes strongly in breaking barriers and living a life that's anything than normal. A woman should be able to be both strong and feminine in anyway she sees fit instead of trying to fit who she is into a box that's been deemed appropriate by society. There is no limit to what we can accomplish as women.
Angela Darling - Angela Darling is a novelist who lives in the Seattle area. Dubbed "The Queen of the Macabre," her novels are richly infused with history, romance and dark gothic horror. Her biggest writing influences include Edgar Allan Poe, V.C. Andrews and Shirley Jackson. She has been writing for over 30 years, completing her first full-length novel, "War" when she was just 15 years old.
Sheena Monnin - Sheena Monnin is the co-founder of the award-winning smart lock brand, Shepherd Lock. Her marketing efforts led Shepherd Lock to be featured on CBS, Forbes and CNet, among others. Her passion for writing and the self-publishing book community led her to start her own media company, Luminosity Media Group in 2020, where she is launching a book awards program and an online training platform for new and aspiring authors in 2022. Sheena is the author of Leaving Safety, a science fiction mystery that explores genetic altering and near earth impacts.